Shop, Search and Help Our Animals!
Join us on Voucherry, the social commerce site with a conscience! You can help us raise funds all while saving money on purchases from thousands of great vendors including Groupon! The Voucherry platform helps organizations like ours raise much needed funds when supporters purchase items they would normally buy (at significant discounts!) from participating merchants, including Groupon. Pet Rescue by Judy will receive a percentage of each transaction and so do you! Voucherry is also a unique referral network that rewards credits to supporters in a variety of ways including creating connections, referring (or vouching) for your favorite merchant or causes, commenting, rating, reading messages and more. You can redeem your credits for great discounts, donate them to us, or even cash them out! And did I mention that you can save money on Groupon?!
Join through by simply clicking on this Invite Link or by going to Voucherry.com and entering our unique InviteID: petrescuebyjudy when prompted upon sign up. Please be sure to use our invite ID as it is key in connecting our supporters to us. If you want to learn more about Voucherry, check out the site at Voucherry.com.
Pet Junkie offers an exclusive line of unique pet products for our furry friends and those who love them. It is a company dedicated to those who have a genuine love for animals. By purchasing items from this website, you will be benefiting: Pet Rescue by Judy. Please shop the on-line store and know that anything you purchase from this website, Pet Rescue by Judy will receive 35% of your sales total. You may also have a home party, catalog party or website party to help benefit Pet Rescue by Judy. In return you will earn free products for being the host and 35% of your sales will still be donated to Pet Rescue by Judy!
Please go to www.petjunkiestore.com/PRBJ to shop at our store or contact http://www.petrescuebyjudy.com/admin/content/mail to: petjunkie654@yahoo.com for more information!
For an even greater selection of stores, go to GoodShop for all your needs. Each time you shop at one of more than 1,000 participating top stores (from Amazon to Zazzle!), PRBJ will earn a percentage of the purchase price – at no extra cost to you!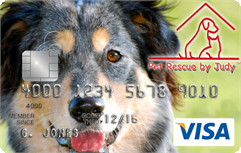 And since you'll be needing a credit card for those online purchases, how about using your own
FREE Pet Rescue By Judy Platinum Visa® Rewards Card.
When you apply for a card, the bank will donate $50 plus a percentage of all your future purchases on the card to Pet Rescue By Judy, Inc.!
And here's the easiest way to help of all: Don't Google ~ Use Goodsearch Instead! When you need to find something on the internet, use http://www.goodsearch.com/ and select Pet Rescue By Judy as the charity for which you search for. Each time you search, we will receive one penny! Believe us, it adds up!
Recycle Your Used Ink/Toner Cartridges and Cell Phones.
We are working with a recycling company that pays us cash in exchange for these items. Just drop off the items at our Oviedo Mall store or our Sanford Center. And recruit your neighbors, friends and coworks to participate as well!
Donate a Kuranda Bed! Our new indoor runs are so big there is plenty of room for a bed, and our pets love to sleep on Kuranda beds, but we do not have enough for everyone. If you would like to donate a bed at discounted price, please click kuranda.com.
As always, thank you for your support!